Why should you study social work and why at the DHSH?
Do you want to make a difference, work for social justice and accompany and advise people through challenges? Then the dual study programme in Social Work at the DHSH is the perfect foundation for your career entry. The growing demand for skilled workers in this field promises you excellent career prospects! Although good professionals in social work are in demand everywhere, there are hardly any degree programmes for social work in Schleswig-Holstein. We want to change that! We are the first to offer a dual degree programme in our state.
But what is behind a dual study programme? Our degree programme offers you the opportunity to combine your studies with professional work and thus gain relevant professional experience during your studies - especially since the learning locations of the university and the partner institution are closely linked. Especially when working with people, the combination of theory and practice is very valuable for finding your role as a future social worker.
What else makes us special? When you earn your Bachelor's degree, you also receive state recognition as a social worker or social pedagogue! This is an important basic requirement for many professions in the social sector. So you don't have to complete a separate recognition internship. When you have your Bachelor's degree in your pocket, you can also call yourself a "state-recognised social worker" or "state-recognised social pedagogue"! The tuition fees are paid by your partner institution, and you also receive a salary. In this respect, the programme offered by the DHSH differs from others in several respects.
This is what the degree programme entails
During the three-and-a-half-year degree programme in Social Work (B.A.), you will acquire extensive specialist knowledge, a wide range of skills and develop your professional attitude as a social worker. In addition to scientific theories and findings in the field of social work, topics from the related sciences are also used. These include psychology, sociology, education, law, politics, economics and health sciences. In addition, you will apply the acquired knowledge, competences and skills practically and purposefully in the various fields of action of social work. These include in particular interculturality, migration, integration, diversity, inclusion, children, youth, family, occupation, education, care for the elderly, health and rehabilitation. From the interplay of theory and practice, you develop your professionalism as a social worker and are excellently equipped for everything that follows. Our degree programme qualifies you both for professional practice in social work and for the transition to a Master's degree programme that follows afterwards or at a later point in time. In this undergraduate Bachelor's programme, the generalist training in social work is clearly in the foreground compared to the specialisation.
As mentioned above, the degree programme has a generalist orientation. However, it also offers you opportunities for specialisation through three elective modules and your professional practice. Depending on your interests, you can sharpen your profile and choose between different compulsory elective modules on the following topics, among others:
Social management,
Communication and Interaction,
Digitalisation and Artificial Intelligence,
Prevention and protection concepts.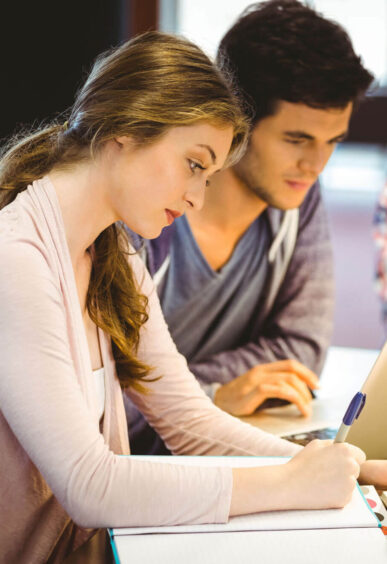 Three degrees in three and a half years
In addition to the Bachelor of Arts and the professional title of state-recognised social worker or social pedagogue, you can also obtain the trainer aptitude certificate for a fee, which is proof of your vocational and occupational pedagogical aptitude. With three qualifications in three and a half years, you will be a sought-after specialist - the perfect start to your professional life!
Current studies show that the shortage of skilled workers in the fields of social work is extremely high, partly due to demographic change. This is emphatically confirmed by discussions with partner institutions.
After graduation, a wide range of tasks await you in various social institutions, services and offices. Whether in the public sector, with independent organisations or in business - you will be in demand everywhere as a specialist and your future prospects will be very good for many years to come.
You can, for example, start out in the field of child and youth welfare or work with mentally ill people. But it is also possible to support people in late adulthood or to work in the field of addiction or offender support. As you can see, you have a wide range of options
We offer the dual Bachelor's programme in Social Work at our location in Kiel.
The Bachelor of Social Work at the DHSH requires 210 ECTS (European Credit Transfer System) credits. The ECTS credits, including the Bachelor's thesis and the colloquium, are distributed over the following modules:
Compulsory modules: 150, of which 32 credits are for practical projects.
Specialisation areas: 18 credits
Recognition practice: 30 credits
Bachelor thesis and colloquium: 12 credits
The proven block model from our other degree programmes (10 weeks of theory alternating with practical phases) is retained. However, unlike Business Administration and Business Information Systems, this degree programme begins with a theory block. There is one theory block per semester, i.e. a total of 7. According to current planning, there is only one theory day per week in the last semester, the remaining 4 days are used for the increased acquisition of professional practice.
We will gladly support you and the partner companies in finding a match if necessary.